Looking to buy a video doorbell camera and you came across the Zmodo doorbell camera?
In this Zmodo video doorbell review, I will describe Zmodo's video doorbell in detail, all about its price to technical functionality.
Information About Zmodo Doorbell Brand
Zmodo Technology Ltd. History
Zmodo Technology Ltd. was established in 2009. and it got registered in 2011. in the USA. They develop high-quality video products and products made for smart homes, connecting video and automation. Their main office is located in Shenzen, China. They offer indoor and outdoor monitoring, smart doorbell cameras, security systems, and smart accessories.
Where To Buy Zmodo Door Camera?
Zmodo Door Camera is available to purchase on Amazon as well as it is on its official website. For a medium-range price (depends on the shipping price), you can choose from various doorbell cameras that I will describe later in the article.
Zmodo Customer Support
They offer live chat support 24/7, available on English as well as communication via email. You can contact them via telephone and search their product base in case you need more help before contacting them. You can search for Zmodo store support, cloud service support, support for their Zmodo app or download network tester. They also listed frequently asked questions and answers.
Zmodo Warranty Right
Zmodo Company offers a warranty of three years for all of its products except for analog products where warranty duration is for two years. The warranty is for all hardware products and accessories in the original package. They do not give warranty for any kind of unauthorized purchasing of the product or if any third party tried to fix the problem with the product. If you need to use a warranty claim, you can choose either to repair the product or to replace the product with the new one.
Best 2 Zmodo Doorbell Reviews
Zmodo Greet Smart Video Doorbell
Zmodo Greet Doorbell Design
Zmodo Greet doorbell comes in white color and contains a 1080p HD camera. It's light sensors allow automatic night vision and built-in infrared LEDs to make it visible in the night. Motion button calls your phone when pressed and the speaker provides crisp audio.
Zmodo Greet Specification
Zmodo wireless Wi-Fi doorbell has a two-way audio system that allows you to pick up a call and talk with your visitor no matter where you are. In case you are not able to answer or you don't want to, you can choose their option to leave a prerecorded message. Live video on demand is also available and it allows you to check the situation in front of your door anytime. The 120-degree angle of view allows you to see more of your front door area. Night vision is up to 16ft.
Notification, Storage And Connectivity
You can adjust notifications and video alert clips via an application. It is designed for outdoor use and it needs 10-36 VAC. You can connect it on 2.4 GHz WiFi network and it is compatible with iOS 9.0 or newer and Android 4.0 or newer. They offer free Zmodo cloud storage. You can save the video recording for 12 hours and in case you need more cloud space, you can subscribe to their plan.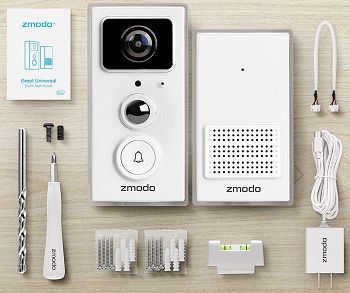 Zmodo Doorbell Chime
Zmodo video doorbell camera indoor chime is a WiFi signal receiver for the doorbell and the power adapter. If you own Zmodo sensors it can become a smart home hub. The indoor installation of the chime makes the signal for your doorbell more stable.
Features:
PIR motion sensor
All-in-on hub
Alexa and Google Home supported
Multiple View Options
Zmodo Sight 180 Wireless Camera
Zmodo Sight Indoor Camera
This type of Zmodo video camera combines 180° angle, 1080p HD picture, and infrared sensor to get a clear picture during the day and the night. It has an instant alert mode that sends you a notification immediately when its sensor detects something.
You can also use Alexa for voice control and it has two-way audio, so you can speak through your wireless camera.
Zmodo Sight Outdoor Camera And Wireless Connectivity
Zmodo Sight camera is made for outdoor wireless security. It contains a full 1080p HD picture with a 180-degree angle. It supports dual-band Wi-Fi signal, which means it can work on 2.4 GHz and 5 GHz networks. Zmodo sight camera needs to be plugged in nearby outlet power since this 'wireless' in its name means for wireless signal transmission.
Weatherproof Certificate, Storage And Package
It is weatherproof and it should withstand temperatures between -10° and 50°C. With it, you can use a one-month free cloud storage space. Package includes an outdoor camera, power supply, screws, setup guide, and warning sticker. This model is not a doorbell camera type so it doesn't contain audio function. Even though it is not a doorbell type, you can combine it with the Alexa device and add voice control. You can also purchase their 360° Solution option and combine the two cameras for full home security.
Features:
Smarter motion detection
Multiple view options
Zmodo Smart Doorbell Installation
The user manual covers a quick guide on how to install the doorbell and Zmodo power accessory. On the first page, you get what the box should contain so it is good to check if everything is inside the package. They guide you with text and pictures on how to mount your doorbell and indoor chime.
Zmodo Doorbell App
Zmodo video doorbell app can be downloaded via the store and it is available for both iOS and Android. When the app is downloaded, you will need a strong WiFi connection. You are required to make an account. When you see your doorbell device in the app, you have to pair it which might take a few minutes. With the application, you can receive calls directly on your smartphone. You can also schedule notifications, save video clips and much more. How to use the application fully is in detail described in the user manual I linked before.
Conclusion: Should You Buy Zmodo Doorbell Camera?
This Zmodo Doorbell review included all the important details about the Zmodo doorbell. If you are considering should you buy this Zmodo video Doorbell, my answer is definitely yes. This medium-ranged product offers you everything you ever needed for a doorbell camera. You can combine it with their other products, like outdoor cameras and get full hold of home security. Their 24/7 customer support, cloud storage space and three years of a warranty is definitely something worth paying for.
For more details and information about the video doorbell camera, head here. To read reviews about smart Wi-Fi doorbell cameras, check this and learn more about the video doorbell system, go here.