You are thinking to buy a video doorbell camera and you don't know which one is right for you?
Read this Aunex doorbell review and see if it fits for you.
In this article, I will give you details about Aunex doorbell, where to buy it, how to use it and more.
Aunex Video Doorbell Information
Where To Buy Aunex WiFi Doorbell?
Aunex wireless smart doorbell is available to purchase on Amazon. It is available in two colors, gray and black. You can get it for half the price than other wireless doorbells.
Warranty And Customer Support
Although Aunex doesn't have its official website, you can reach them through the Amazon website. They provide contact with them through an email address and comment section on the product site on Amazon. Besides connecting to them through methods mentioned before, you can read their Q&A available on both user manual and installation manual. They offer a 45-day money-back policy, 12 months of warranty and lifetime technical support.
Aunex Doorbell Manual For Application
After mounting your Aunex doorbell, you should download the Aunex doorbell app called "UBell", available for iOS and Android. After the installation, you should reset the bell on the back and wait for an application to recognize it. To finish pairing, you must provide the name and the password for your doorbell. After you successfully paired the doorbell, you can start using it. You can set PIR, decide how frequently you want to get notifications, how to pair it with the chime and where to check the recorded video.
Best Aunex Doorbell Review
Aunex WiFi Doorbell Design
This Aunex wireless smart doorbell weighs 453 grams which makes it a bit heavier than other video doorbells. Its size is in 5.6 by 2.9 by 1.5 inches. It offers a 720p HD camera with a 170° angle so you have a better visual field in front of your entrance. It is equipped with anti-theft screws. In case someone tries to steal your bell, the moment they pull it out from the bracket, you will get a notification.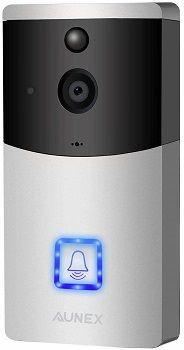 Aunex Doorbell Chime
Aunex offers you to buy their chime. In case you buy their chime, you can pair it with the doorbell via the application. You can choose between 52 melody types. When you see the blue LED light on the chime, it indicates that pairing is completed. You can see detailed steps in their user manual and you can pair the chime with multiple devices.
Cloud Storage And SD Card
You can use a 16 GB micro SD card which comes with the Aunex video doorbell. It is upgradable to 32 GB micro SD card. With hard storage, you can also use their cloud storage. It is free and it comes automatically with an app. When you choose to store your videos on the cloud, it is available only for seven days' time. You can also share the videos with your family via the QR code available in the application.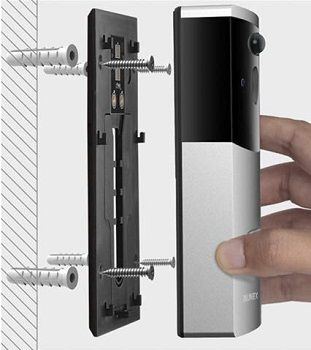 Aunex Video Doorbell Charging
You can charge this doorbell in two ways. One is to directly connect it to your power source. If you have existing wires from the old doorbell, you can use them. The only thing you have to be careful of is that the power source is 8-24 V. In case you don't want them wired, you can use the batteries. Using batteries at the same time with the power source is a great back up plan in case your home suffers a power outage.
Features:
PIR motion sensor
Night vision
IP42 waterproof certificate
Low power consumption
WiFi connection
Aunex WiFi Doorbell Accessories
Aunex video doorbell comes with mounting bracket, screws, security screws, anchors, hex key, user manual, batteries, and micro SD card. The doorbell is mountable on any surface thanks to the bracket and screws. Security screws are shaped that way that if someone tries to steal the doorbell, you will be immediately notified about that action.
Aunex Doorbell Instructions For Installation
This doorbell comes with an installation manual. In there, it is described in detail how to install the doorbell and it is quite simple to do so. Manual provides pictures with described details on how to install it as quickly as possible. The instructions manual can be found on Amazon under the name of the User Manual.
Conclusion: Why buy Aunex Doorbell?
Aunex doorbell offers some basic features like wireless connectivity, HD camera, app control and more. The great thing about this doorbell is that it is cheaper than its competition and it is available with security screws that many other doorbells don't have. It is highly recommended by other users on their Amazon page so be sure to check that section too.
If you liked this smart Wi-Fi doorbell camera review you can read about other types here. I covered more about different types of video doorbell cameras available here. To check out more about video doorbell systems, go to this link.