Looking to discard your old classic or video doorbell? You are not sure which one is good for you or you are just interested in new video doorbells?
In this Remo door cam review, I will describe everything about Remo doorbell products.
Remo+ Company History
Remo+ is an American company that was established in 2013. During the years they developed video doorbells and upgraded the old version. They also partnered with various companies and thrive to improve their home security systems.
Remo+ Customer Support
Remo+ offers online and telephone customer support. They have frequently asked questions and answers on their site as well as a contact form you can fill in. If you need telephone help, they offer their number with working hours.
Remo+ Return And Refund
They offer 30-days return policy in case you want to return the product for any reason. You need to contact them and send the package with the shipping label they give you. If you buy their product via a retailer, you need to contact that retailer and see how can you return the product. For products purchased on their site, they also offer a 30-day return policy.
Where To Buy And Warranty Policy
You can buy Remo+ products on their official website as well as on Amazon. The price of Remo+ products is medium ranged. They offer a 1-year limited warranty for products bought on their site as well as through retailer stores.
Best 4 Remo Door Cam Reviews
Remo+ RemoBell S Wi-Fi Video Doorbell Camera
Remo+ RemoBell S Specification
This Remo S doorbell comes as 5.1 by 0.8 by 1.8 inches in size with only 4.6 ounces in weight. You get one lithium polymer battery that is included in your purchase. You can choose between gray and black versions of this model.
Remo+ Audio, Video And Camera
Remo wireless doorbell has an HD camera with a 180° point of view. It has a wide-angle lens that helps you see more in front of your door. The night vision option has a built-in infrared sensor that allows you to see a clear picture during the night. A two-way talk system allows you to see, hear and talk to your visitors in real-time.
Remo+ Storage And Motion Alerts
You can store your video footage for up to three days for free or opt for a paid cloud subscription available from 3$ a month or 30$ a year. You can customize motion alerts in a way where you specify motion zones and will the Remo+ doorbell react even if they don't press the bell. You receive instant push notifications and you can live check who is at your door even if you are not at home.
Features:
Amazon Alexa, Google Assistant and IFTTT compatible
Multiple viewer access
Can be used from tabler or smartphone
RemoBell W Video Doorbell Camera Version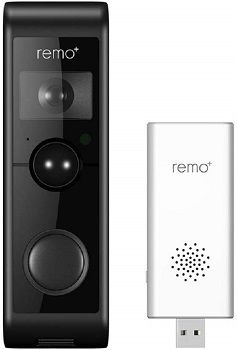 With 5.4 by 1 by 1.7 inches in size and 4.8 ounces in weight, this little video doorbell comes equipped with a 1080p HQ video camera and 160° angle view. It contains the same audio, storage, motion alerts, and PIR motions sensors as its Remo+ S companion. This model comes equipped with digital chime which you can plug in any USB outlet at home. Digital Wi-Fi chime alerts you when someone rings your RemoW doorbell.
Remo Door Cam Model
Remo Door Cam Specifications
Door cam contains a 160° wide-angle camera with 720p HD and VGA resolution. Its video compression is in the H.264 format. Its body is 3.2 by 1.7 by 6.7 inches in size and the camera is 4.8 by 1.85 by 1.81 inches in size. It weighs only 1.1 lbs. It is weather-resistant and supports iOS 11 or above and Android 4.1 or above version. You can also monitor it via the app that is supported both on the phone and tablet.
Remo Door Cam Installation And Batteries
This Remo doorbell is a type of video camera that you can put on your door. It is designed to fit any door and you don't need additional wiring. The only thing you need to do is to hang it on your door and thanks to its adjustable bracket, you can install it all by yourself. It is completely wire-free and operates with 3 D batteries that last up to 12 months.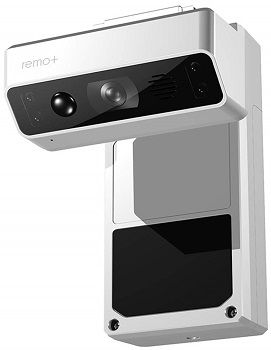 Wi-Fi connection, Storage And 2-way Talk
It contains antenna and Wi-Fi chipset so it won't interfere with your usage of the Remo Door Cam. You can check what is happening via an app and it supports on-demand streaming. It gives you a crystal clear picture with a two-way audio benefit. You can access all videos from your phone within the last 30 days of recording or you can opt for a cloud subscription.
Features:
Alexa or Google Home device supported
Battery-powered
PIR sensor
Live view
RemoBell Wireless Battery Powered Doorbell
RemoBell Technical Details
This RemoBell doorbell comes in black and gray color and it is only 2.8 by 6 by 1.3 inches in size with a weight of 14.1 ounces. It requires six AA batteries. You can use any model of batteries for up to 4 months. The product is available in black color.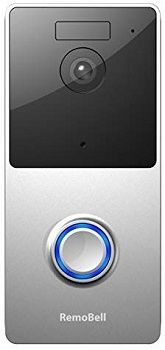 RemoBell Wireless Camera, Audio And Sensors
It contains 720p HD and VGA video camera with a 120° view angle. The infrared night vision sensor allows you to see motion and who is at your door the same way as during the day. Its two-way audio with full-duplex allows you to talk and listen with your visitors without opening the door. An advanced motion sensor gives you the flexibility to set your sensor sensitivity any way you want.
Easy Setup And App Control
You can download the Remo+ app that is supported both by iOS ( version 11 or above) and Android (version 4 or above) and that way control your Wi-Fi doorbell. You can also access your app with a phone and tablet. Setting up the doorbell is really easy and quick and you don't need additional wiring.
Features:
Battery low notification
Weather-resistant
Multiple viewers
Cloud recording
CONCLUSION: Why Buy Remo+ Doorbell?
In this Remo door cam review, I described available models on the market. Remo doorbell medium-priced products come with a lot of benefits for your security system. I recommend buying RemoBell S video doorbell and Remo over door camera. You can combine the two products anywhere in your home, wether will you place them both at the front or back door or not.
If you are interested in learning more about the video doorbell system, go here. To check more reviews about smart Wi-Fi doorbell cameras, I advise checking these articles. If you want to read more about video doorbell cameras, check these articles here.