Are you interested in a doorbell camera that works with Alexa but you don't know which one to choose?
We are here to help you out!
In this article, we gathered some of the top video doorbell models that also have compatibility with Amazon Alexa. We also bring you all of the information you need to know about Alexa and the benefits it brings to a traditional video doorbell. Hopefully, this article will help you chose the best Alexa doorbell camera for protecting your home!
Things To Know Before Buying A Alexa Doorbell Camera
What Is Alexa?
If you still don't know what Alexa is, don't worry we got you covered. Alexa is Amazon's cloud-based voice service platform which has artificial intelligence capabilities. It can respond to simple queries as well as provide you with information, entertainment, voice interaction, music playback, setting alarms, making to-do lists,  playing audiobooks, streaming podcasts, etc.
Why Is Alexa Needed When It Comes To Video Doorbells?
Alexa also makes it easier to use your video doorbell. You can simply give it a voice command to see the live stream on your phone or to turn on the infrared lights on the camera, etc. That way you can use your video doorbell without even having to get up just by using the Alexa.
Where To Buy Video Doorbell With Alexa?
Just like the regular video doorbells, the ones compatible with Alexa can be found online and in physical stores. We recommend shopping online. Amazon.com is a great place to find your video doorbell that works with Alexa, but there you can also buy the Alexa itself. That way it is super convenient and sometimes you can even find some discounts if you are lucky.
Best 5 Doorbell Camera That Works With Alexa Reviews
Best Alexa Compatible Doorbell Camera
Remo+ RemoBell S Wi-Fi Video Doorbell Camera
Monitor Your Home
The first Alexa doorbell camera we want to review in this article is by the brand Remo+. This RemoBell S model is powered by your existing doorbell wiring and will provide you with a non-stop surveillance of your home. You can customize the motion zones and select areas where you want to high or low sensitivity.
Home Safety Made Easy
You will receive instant alerts and notifications on your phone when motion has been detected. You will get notified even if your visitors don't press the doorbell and are just standing at your front door. However, it does require iOS 11 or Android 5 or above. Multiple users (up to 5) can connect their smartphones, which makes this video doorbell Alexa compatible convenient for bigger families.
Camera And Audio Specifications
With this Alexa compatible video doorbell, you will also get 180 º viewing angle camera and infrared night vision mode. All of the recorded videos are in high-quality HD. You also get two-way audio which allows you to see, hear and talk to your visitors in real-time.
Smart Home Features
The great thing about this video doorbell is that it is compatible and works with Amazon Alexa, Google Assistant, and IFTT. It comes with no monthly fees or subscriptions. You get free cloud storage where you can reach videos for 3 days. If you want to get longer access to the videos you will have to take one of their subscriptions.
Features:
180 º viewing angle camera
Customizable motion zones
Up to 5 users
Free cloud storage
Best Alexa Front Door Camera
Netvue Doorbell Camera
Compatibility And Certificates
Next on our best video doorbells that work with the Alexa list is the doorbell camera by the brand Netvue. This one is compatible with Alexa, Echo Show, Echo Spot, and Fire TV. It comes with CE, FCC and RoHS certificates. You will also get a two-year warranty and lifetime customer support through live chat, toll-free phone call or through email.
Installation And Storage
The setup and installation of this Alexa video doorbell are super easy and quick if you follow the instructions on the NETVUE app. All of the videos are stored on the cloud and if you pay for the premium plan you will be able to store up to 14 days of continuous videos. You can also rewatch the saved videos at any time.
Voice Interaction And Facial Recognition
One of the benefits of this Alexa show front door camera is that it can recognize familiar faces and their names and allow them to leave messages or deliver packages for you. Sometimes you can schedule appointments and the doors will be automatically opened for certain visitors. An additional benefit is an intercom with the built-in microphone and speaker that allows you to hear and speak to your visitors.
Motion Detection Even At Nighttime
The great thing about this best doorbell camera with Alexa is that you can choose to blind some areas or just lower the sensitivity. That way the sensors can focus more on certain other areas. You will get a high-quality lens and powerful LED lights that allow you to see who is at your door even in low lighting conditions.
Features:
powerful LED lights
CE, FCC, and RoHS certified
High-quality lens
Best Alexa Enabled Video Doorbell
Zmodo Greet HD Wireless Video Doorbell
Works With Amazon Alexa
Another one of the best video doorbell with Alexa is the Zmodo's Greet model. That model works with Alexa and is compatible with the Amazon Echo products. You can watch the live stream from your camera by saying "Alexa show me the front door". It requires 2.4GHZ WPA/WPA2 WiFi and you will have to have iOS 9.o or newer or Android 4.0 or newer.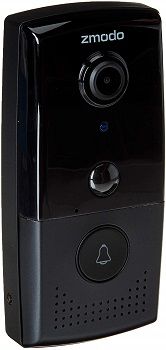 Sensitive Motion Detectors
With this doorbell camera compatible with Alexa you will get the PIR motion sensor which has a wide-angle and can detect even the slightest movements. Once the motion has been detected you will get the notification on your phone instantly. Another benefit is that all of the false alerts such as wind, cars, animals will be prevented. You can also customize the motion detection zones and get even more accuracy.
Non-Stop Monitoring
With this video doorbell, you will get all of the footage in 1080p resolution, night-vision option, and adjustable brightness option. That way you always get a clear picture no matter the time of the day. The camera is also weather-resistant so it will not get damaged by rain or snow. The camera also has a wide viewing angle so it is easy to see your visitors from head to toe.
Pre-Recorded Messages
When you aren't able to answer the door you can pre-record a voice message for your visitors. You can tell the delivery man to leave the package at the door or even ward off burglars which are looking for an empty home.
Features:
1080p resolution
adjustable brightness
pre-record a voice message
compatible with the Amazon Echo products
Best Ring Camera With Alexa
Ring V2 Advanced Security Wi-Fi Video Doorbell
Compatibility And Requirements
The next video doorbell that works with Alexa we are going to mention is the Ring video doorbell pro Alexa. It can be connected to your phone, tablet or PC and is compatible with Alexa. You can send announcements to the Echo devices when motion has been detected or someone pressed the doorbell. Also, you can see, hear and speak to your visitors through Echo Show or Echo Spot. This ring video doorbell is compatible with the iOS, Android, May and Windows 10 systems.
Audio And Video Features
With this Alexa Ring camera, you get all of the footage in 1080p HD resolution. The camera has a wide-angle for you to see your whole front door area. You also get the infrared night vision, which means that the videos will be the same quality in the daytime and at nighttime. You also get built-in microphones and speakers for easy communication with your visitors.
Storage And Subscription
You will get a 30-day free trial of the Ring Protect plan which will allow you to save the videos and rewatch them later. After the free trial, you will have to pay 3 dollars a month to be able to record pictures and videos as well as save and share them. You can also upgrade to the Ring Protect Plus Plan which costs 10 dollars a month and you get unlimited storage.
Features:
30-day free trial
1080p HD resolution
built-in microphone and speakers
Best Wireless Alexa Video Doorbell
Eufy Security Wi-Fi Video Doorbell
Great Protection
The last on the doorbell cameras that work with Alexa list us a doorbell camera by the brand Eufy. This one will protect you, your family and overall your privacy. It was designed to keep all of your data private. That way you will get a secure record of everything that is happening at your front door. A great additional feature is compatibility with Google Assistant and Amazon Alexa.
What's In The Package?
In the package, you will find the wired video doorbell, screw hole positioning card, a mounting bracket, 15° wedge, extension wires, jumper for existing chime, screw packs. Electronic doorbell chime, doorbell detaching pin, doorbell power pin and the quick start guide. Keep in mind that you might have to hire an electrician for the installation process since there are wires included.
See who's there
Since this best video doorbell for Alexa comes with really great sensors, you will get instant alerts when the motion has been detected. That way you know who's at your front door even before they ring the doorbell. All of the videos are in HD and have the 2560 x 1920 resolution. You can also record and set up to 3 instant responses to play for your visitors when you are busy. Aside from the pre-recorded messages, you will also be able to reply in real-time through the two-way audio.
No Hidden Costs
This product was designed to protect your home but also your wallet. It is a one-time purchase that requires no additional monthly fees or subscriptions. You will also get free electronic chime included in the package. It supports 8 holidays themed ringtones and comes with the adjustable volume level.
Features:
2560 x 1920 resolution
two-way audio
pre-recorded messages
Conclusion: What Is The Best Alexa Doorbell Camera You Can Find On The Market At The Moment?
After reviewing the top five products in the best doorbell camera for the Alexa category, it was a hard decision to pick the best one. In my opinion, two of the best models are the Remo+ Remobell model and the Eufy Security video doorbell. They both come with wide-angle cameras and high-resolution videos. You will also get great audio features which overall brings you great protection of your home.
If you want to know what is the best buy doorbell camera, read our article on the topic! If you are interested in the doorbell compatible with google home check out our article and find out what are some of the best models! All of the smart home wireless video doorbell models can be found in this article.