Are you interested in buying the Swann doorbell camera?
You were looking for a few video doorbell reviews and still not sure which one you will choose?
Read this Swann doorbell review and see why should you choose to buy the Swann video doorbell.
Information About Swann Brand
Swann Company Background Story
This Australian born company, now part of Infinova Group, is a leader in do-it-yourself security. They have a presence in over 40 countries and offer products in security monitoring, consumer electronics, and security-centric solutions. You can use their security system both at home and in business.
Where Can You Buy Swann Products?
Swann products are available both in-store and online. They partnered up with some big retail stores but we recommend buying their product either on their official site or Amazon. The price range goes from cheap to medium, depending on the product you want to buy.
Swann Customer Support Center
Swann customer support is available on their official website offering you various lists of frequently asked questions and answers depending on a product. You can also see product manuals and warranty and returns. You can check their troubleshooting section and try to find help there. You can also email and call them. Depending on your region, there is available official telephone support. I recommend checking their official site where everything is more specified.
Warranty And Return Policy
They offer a 12-month warranty for their security products with a 6 months extra cover. You can get this 6 months extra warranty period by online registration on their website. You can return their product in case of malfunction and repair it, replace it or ask for a refund. More details are available under their Customer Support section on the official website.
Best 7 Swan Doorbell Camera Review
Swann Wire-Free Smart Video Doorbell
This Swann doorbell comes as a small, black box with 2.6 by 7.9 by 8.3 inches. It weighs 1.25 pounds and requires one lithium-ion battery. It contains a 720p HD camera and two-way audio. Two-way audio allows you to talk to the visitors via a built-in speaker and microphone.
Swann Wire-Free Vision and Wi-Fi Connection
This little model offers a quality night and day vision with a wide 80-degree view angle. It contains a True Detect heat and motion sensor that triggers the recording option. Even if the doorbell isn't pressed, you will get a push notification about some movement in front of your door on your smartphone. It is easy Wi-Fi connect and you can see up to 100ft in dark.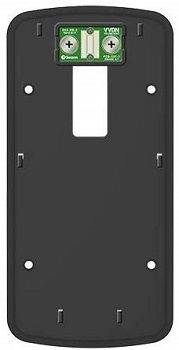 Swanbuzz App And Storage
You can control your Swann smart video doorbell with the Swanbuzz app available for Android and iOS. You need to create an account and pair your doorbell with the smartphone. After you successfully do that, test your doorbell and update it if you need it. You have free video storage for up to 30 days. You use local memory and there is no cloud subscription or fee of any kind.
Features:
Alexa and Amazon devices compatible
Weatherproof rating
Expandable with other products
Swann DIY Video Doorphone
This Swann video doorbell is actually both video and a phone in one. It is a high resolution intercom. It weighs only 3 pounds and it is 6.7 by 2 by 8.9 inches in size. Thanks to it's 4" black and white CRT screen you can see who is at the door even before opening it.
DIY Doorphone Specifications
This video doorphone contains of indoor monitor and a camera. Indoor monitor can be used between -15°and 50° C and its power consumption is around 10W when active and 0.5 W when on stand by. The camera can operate at the same temperature level and its power is supplied by the monitor. It has about 53° field of view and six infrared illuminators.
Functions And Package
With the package comes user manual which is ment for do-it-yourself installation. It contains monitor, intercom unit, camera bracket, wall mount and screws. The manual also explains how to propely operate the doorphone set. Its night vision with six infrared LEDs allows to recognize the person when the outside light is low. The unlock button function allows you to open your door without actually opening the door by hands.
Features:
Handsfree communication
Automatic display
Theft-resistant
Swann Expandable Intercom And Video Doorphone
Swann Doorbell Intercom Design
This video intercom comes as a 7 inch display in white color. You can see your visitors either in full color or in black and white during the night thanks to its infrared sensor. You can see the visitors in front of your door and talk to them before opening your door. Its compact design and 14 mm thick display allows you to put it almost everywhere close to the door.
Swann Video Doorbell Intercom Specification
You can combine this model of a Swann doorbell with up to 2 Swann CCTV cameras, one digital video recorder, TV or two eletronic door strikes. You can adjust volume and melodies and it uses only 15V DC. It is aluminium and IP 44 rated. Californian residents can ask for Proposition 65 warning.
Features:
Connectable to TV or DVR
6 chime options
Swann Wireless Door Chime Reviews
Swann SWHOM Model
This door chime comes in a black color with black finish. It contains 32 chime options and adjustable volume. Its range is up to 330 feet. Its dimensions are 11.2 by 8.6 by 2.1 inches and it weighs 1 pound. It can be used at home or in office.
Swann Home SWADS Model
This model is a do-it-yourself wireless doorbell alert system. Its range is up to 200 ft and it connects and pair very quickly. It uses three AA batteries for the reciever and is totally wireless. It is also easy to use and it can be used in a silent mode where blue light will flash when the doorbell buttons gets pushed three times.
Swann SWHOM Doorbell Model
This model is an Swann MP3 model which lets you transfer MP3 song files from your PC to internal memory via the USB cable. It contains a 90 MB memory and you can put up to 25 songs. It is wireless and easy to install, containg a speaker. This 15.2 ounces doorbell model lets you say goodbye to the old, boring chime tones.
Wireless Alarm Home System Review
This home alarm system contains a wireless control panel, two remote controlers, two PIR sensors, siren, power adapter, instructions manual, security stickers and mounting screws and plugs. In instructions manual is a detail description on how to handle the product and what not to do with the product pieces. It also specifes how to mount it, more information about wireless system, how to set the zones and modes, what to with batteries and what to do in case of trouble. It is easy to install and doesn't need rewiring. It is ideal for apartments, cabins and such. Its two small wireless controlores can be carried on a keychain.
CONCLUSION: Should you buy Swann doorbell?
Buying Swann doorbell camera enhances your security at home and brings it to another level. I would recommend buying Swann video doorbell intercom with a Home Alarm System. That way, you can get full coverage of your home or cabin or either place you use for relaxation.
To learn more about video doorbell cameras, I recommend these articles. To read more reviews about smart Wi-Fi doorbell cameras, go here and to get information about video doorbell system, go here.