Interested to upgrade your current home security system?
Check out this Ring doorbell review and see if it fits your needs. Here, I will describe Ring doorbell camera technical details, design, functions and how to use so you can help yourself with deciding which one is the best for you.
Things To Know About Video Doorbell Cameras
Who Is Ring Company?
Ring company is an American based company that specializes in the home security system. They have offices both in the US and Europe. They provide home security products such as video doorbells, security cameras, stick up cameras and accessories. Their mission is to provide a security system that reduces crime in communities and to make a positive impact on the world.
What Is A Video Doorbell Camera?
The video doorbell camera is a device that belongs to the smart device field. It is an upgraded version of the standard doorbell and comes with a lot of benefits for you. Standard, wired doorbells are not easy to install and don't include benefits like modern doorbell cameras.
What To Look For In Video Doorbell Camera?
When buying a video doorbell camera, you need to include a lot of options for yourself. Some of them are: do you need to drill the holes in your wall, is it weather-resistant, can you connect it to the existing doorbell, does it include a chime or you need to buy a separate chime box? To answer questions like that, you need to include the place where you live, your preference to right models, the fact that you want to see who is at your door without opening it first and many more.
What Design And Size It Should Be?
You don't want some big video camera that will not go with your house design or you just want to save space, you need to look for the size of the doorbell camera that you are buying. A lot of models come in standard, black color, but some of them have other colors available too. The size of the doorbell should be somewhat acceptable so it suits your door nicely.
What with Audio, Video, And Storage?
When choosing a doorbell camera, you need to see which one suits your preference the best. The ones with HD pictures are more expensive than the ones with VGA or standard pictures. You need to look out for the audio way and if you can talk to your visitors freely. There is also a storage question, where you should see will you save everything on your mobile phone, an additional SD card or opt for a cloud subscription.
Should Your Video Doorbell Support App Control?
You should definitely look for a video doorbell that can support mobile or tablet access via an application. That way, you can access your front door anytime, no matter where you are. You can be at home and just check if your package delivery arrived or you can be at work and waiting for someone to come fix something in your house. This option is a really great feature and it gives you more flexibility when setting up your home security system.
Best Ring Video Doorbell Camera
Best Ring Doorbell With Ring Chime Pro
Ring Doorbell Specification
This Ring video doorbell comes in black and white color combination. Its size is 4.98 by 2.43 by 0.87 inches. It contains a 720p HD video camera with a wide-angle and infrared night vision to protect your property all the time. You can check-in your front door at any time, using Live View option and on-demand video and audio.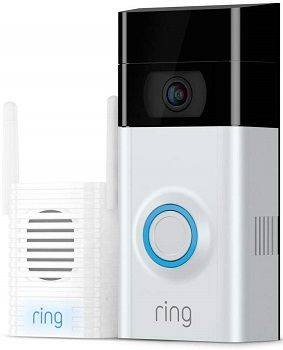 Ring Doorbell Audio And Motion Alert
With a two-way audio option, you can hear and speak to people in front of our door straight from your mobile device. With motion-activated alerts, you can get alerts on your phone, tablet or PC every time someone triggers the motion alert sensor or presses your Ring doorbell.
What Is Ring Chime Pro?
Ringe Chime Pro is a device that comes with this Ring Doorbell. This device extends your Wi-Fi signal to your Ring doorbell. It amplifies the signal strength of your network and improving the signal you are receiving from the Ring Doorbell. It also contains a customizable tune for motion alerts and Ring doorbell rings.
Ring Doorbell And Ring Chime Pro App Control
You can control your Ring doorbell and Ring Chime with Ring application supported both by iOS and Android. The only thing you need is to set up your account and customize the settings of both devices to suit your needs. You need to download the app, set the account, connect your devices via Wi-Fi and via mobile app and you're good to go.
How To Install Ring Doorbell?
To install your Ring Doorbell, you can choose will it be battery-powered, wired or you will use Ring transformer. You can also choose will it be paired with an existing doorbell or without an existing doorbell. You can also pair this Ring Doorbell with other Ring products.
The Package And Warranty Rights
The package contains both Ring Doorbell and Ring Chime Pro available to purchase on Amazon at an expensive-ranged price. For warranty rights, Amazon suggests to directly contact Ring company customer support.
Features:
Quick-release battery
Do Not Disturb mode
Volume control
Lifetime theft protection
CONCLUSION: Why Buying Ring Doorbell Is Great?
This Ring doorbell packed with Ring Chime Pro is a great deal that offers app control and is supported by mobile phone, tablet or PC. You can access your doorbell camera from anywhere. You can also choose how will you install your doorbell and how will you set it up in detail.
To find more information about the best doorbell video camera models available, check these articles. To learn more about the smart Wi-Fi doorbell camera, check this here and to see more about the video doorbell system, check these articles here.