Thinking to replace your old classic doorbell with a new video doorbell camera?
Thinking about purchasing August doorbell?
Stay here, keep reading this August doorbell review and find more information about the August doorbell camera.
August Company Information
 What Do They Do?
Their goal is to make homeowner life simple and secure. Thanks to their innovations and a lot of partnerships, the August company produces smart locks, doorbell cameras, and cameras. They also launched a new August view doorbell camera that is completely wire-free.
How August Doorbell Cam Works?
August doorbell connects to their official app – The August app. This app allows you to control your August camera with 24/7 feed activity and recording. You can also use the Guest Access feature that allows you to give temporary access to your house. Even if you need a family member to keep the kids' company or a plumber to fix a sink, you have control when and for how long someone can stay in your house when you are not there. You can control who goes inside, lock and unlock the door from anywhere. The August app also gives you status updates is your door closed and locked if you have their smart lock product.
August Products Customer Support
Customer support is accessible via their official site. On their site, there is a section for each product with installation guide, troubleshooting and frequently asked questions and answers. In case you need support with your product, feel free to check their page or contact them via telephone. Telephone customer support is available 24/7. Amazon also provides with their free technical support.
Where To Buy August Products?
August products are available on the Amazon in August Home store. You can also order products on their official website as well as check their customer reviews. August Smart locks are in a higher price range as well as it is August Doorbell Cam. Cheaper price range belongs to August Smart Lock 3rd generation, August Connect and August Smart Keypad.
August Warranty Policy
August gives one year of limited warranty for August Smart Lock Pro + Connect product, and for the rest of the products available on their store, warranty is available upon request to Amazon customer service.
Best 4 August Doorbell Cam Reviews
August Doorbell 1st Generation
August Doorbell Camera 1st Generation Specification
This August doorbell cam comes with USB charging dock, mounting hardware, electrical sealing putty, screw anchors, anchors, mounting wedge and mounting wedge screws. It requires one lithium battery and it works on 3.7 volts. It has a full HD camera that keeps a clear picture during the night. It works with iOS (9.0 or higher) and Android (5.0 or higher) operating system.
August Alert System And Recording
With this type of August doorbell camera, you can monitor your doorway and see-through moments leading up to motion alert. You can review videos up to 24 hours with the Basic Video Recording subscription. You can upgrade to their Premium subscription which gives you 30 days of access to your recorded videos. You can buy the August video doorbell by itself or combine it with smart keypad, smart lock and connect solution August brand offers.
Features:
Alexa home
DIY installation
Real-time alerts
August Doorbell Cam Pro 2nd Generation
August Home Smart Locks
This August doorbell camera is an upgraded version of August Doorbell 1st gen. It contains the same specifications as the previously mentioned one. August camera comes as a more elegant connection between smart technology and design.
August Smart Lock And Connect
This smart doorbell comes with a Connect WiFi bridge so you get voice integration and remote access. With the use of an app, you can lock and unlock your door. With this, you can also grant keyless access to the people you want to keep in your house when you are not around. You attach this smart lock on the door on the existing deadbolt. You can order smart keypad for secure key-code entry.
August Smart Lock Design
This Smart Lock comes in satin nickel color. It weighs only 1.8 pounds and it is 2.6 by 1.6 by 4.8 inches big. Since it is battery powered and requires 4 AA batteries, its design suits most homes. Thanks to no wire system, your door will look stylish. Oval design is compatible with a retrofit deadbolt lock.
Features:
Automatic unlock upon owner arrival
August App Supported
Combine it with August Doorbell Cam
August Smart Lock 2nd Generation
This type of August smart lock product line comes with compatibility with Alexa. You can buy a hub and Alexa device, which is sold separately and combine it with this lock to gain voice control. It requires a 110-240 V power source. It is 13.9 ounces light and it comes with Proposition 65 warning for Californian residents.
August Smart Lock Wi-Fi Bridge Bundle
There is also an available smart lock and connect Wi-Fi bridge bundle. Wi-Fi bridge requires a North American power outlet and it can be used with one August Lock. You don't need to use your keys when using the app, all you need is your smartphone. The package contains a smart lock, 4 AA batteries, mounting plate, and 3 lock adapters.
Smart Lock Design Combination
This smart lock Home Kit edition comes in dark gray color and it is compatible with Apple HomeKit, Android, Amazon Alexa, and Nest. It weighs 13.9 pounds and it is 3.4 by 3.4 by 2.2 inches in size. It's battery-powered and it needs only one lithium polymer battery.
Features:
Free Amazon tech support
Auto-lock, auto-unlock
Siri compatible
August Smart Lock 3rd Generation
August 3rd generation smart lock brings you a more redefined version of 2nd generation smart lock. It comes in gray color and it is compatible with a retrofit deadbolt lock. It uses 4 AA batteries and it is compatible with Apple HomeKit.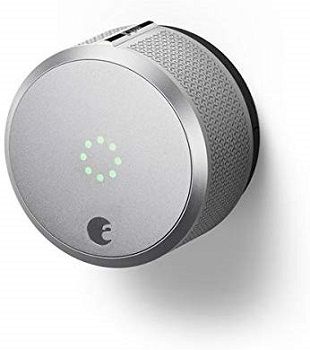 Locking And Unlocking The Door
You can use your voice to lock or unlock your door. It contains DoorSense which tells you is your door securely locked. You can also track activity via August App and grant temporary access to your guests. Thanks to the use of your smartphone and August app, the door automatically locks when you leave and unlocks when you approach them.
Combine Smart Lock With Other Products
It is usually bought together with a smart keypad and Wi-Fi bridge which gives you a more secure connection. You can combine the Alexa device and hub to add voice control. Alexa devices and hubs are sold separately. You get one year of warranty for this August Home product.
Features:
Alexa, Siri or Google Assistant supported
Easy Installation
Compatible with most standard single cylinder deadbolts
August Doorbell Camera Pro Installation
Installation of August doorbell usually takes less than 15 minutes. In their Installation Manual, you can find step by the step installation process.  When you checked August doorbell cam compatibility, you should prepare your mounting plate, drill holes and mount the plate on the wall. Test the doorbell and set alarms, notifications, lock sounds and much more. To access your August video doorbell remotely, you should buy their Wi-Fi bridge. I suggest you check their support page on the official website for more information.
Conclusion: Should You Buy August Doorbell Cam?
August doorbell is a great home security system on the market today. In this August doorbell review, I covered the most important things about the August camera. I would recommend buying August Smart Lock 3rd Generation with August Doorbell Cam Pro. For the higher range price of the August doorbell camera, you get exactly what you paid for. Investing a few more bucks and buying the Wi-Fi Connect bridge makes your home secure like a tiny fortress.
In case you want to know more about the video doorbell camera, check these articles here. To learn more about the video doorbell system, go here and read more reviews about smart Wi-Fi doorbell cameras, check these articles.