Reading a lot of reviews about video doorbell cameras and not sure which one to purchase?
Stay here and read this Uniden doorbell review and see why purchasing Uniden doorbell might be a good choice for you.
Uniden Background Story
Uniden is a Japanese company with two offices, in Texas and Australia. They were established in 1966. They offer a wide range of technologically advanced products as well as various electronic accessories. You can choose their products within a field of car electronics, home security, marine radios, radios and scanners, accessories and phones.
Uniden Customer Support
Uniden customer support can be found on their official website. According to your product, you can choose the category of the product you need help with. You can search for your products, watch videos about your product, see more information and documentation about your product, as well as see information about warranty and repairs. You can reach them via email, Facebook, contact form or call them.
Uniden Warranty And Where To Buy?
Depending on the product, warranty time can be up to one year. They have a table where is specified how long the duration of your warranty is based on the product. Uniden doorbell camera holds a one year warranty period. Uniden doorbell is available to buy on their official website. You can also buy it on the Amazon site. Uniden doorbell price is in an expensive range.
Uniden DB1 Doorbell Review
Uniden DB1 Specification
Uniden DB1 U-bell wireless video doorbell comes with 4.82" by 1.81" by 1.11" dimensions. It uses 16 VAC to 24 VAC power supply with a maximum of 12 W power consumption. Its power frequency is 50 to 60 Hz. You can mount the doorbell on the mechanical chime type. The doorbell contains one call button and one reset button.
Uniden Doorbell Camera And Audio
The camera contains a 2MP HD color camera with 2.2 focus lens. You have a 180° horizontal field of view and a 96° vertical field of view. Light supplement mode works up to 5 meters. Video streaming is 1080p with 30 frames per second with a sub stream of VGA camera with 30 frames per second. It holds a wide dynamic range and two-way audio. Built-in speaker and microphone come with noise suppression and echo cancellation.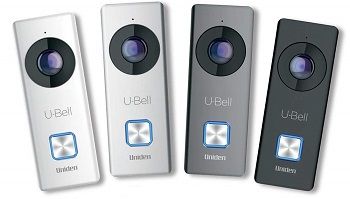 Doorbell Storage And App Control
You can store your footage on a MicroSD card up to 128GB space. To control and to set up your Uniden doorbell, you need to install Uniden one app. You make an account, add a device, connect your doorbell to the wireless network and set up the doorbell settings in a way you want it.
Features:
Motion detection alarm
Four faceplates (white, silver, charcoal, black)
iOS and Android supported app
CONCLUSION: Why Buying Uniden Doorbell?
Buying the Uniden doorbell is a good choice for your home security system. Uniden doorbell comes from a company that amongst others, creates and distributes assets for marines. Even though their doorbell product is expensive, you wouldn't regret investing your money in it.
To learn more or just to check information about the video doorbell system, see these articles. To read more smart Wi-Fi doorbell camera articles, please go here and to read more about video doorbell cameras, go here.