Home surveillance is these days becoming more and more important to every homeowner.
If you're looking for an easy gadget that can offer you video surveillance and notify you who's at your porch, you should consider getting a small doorbell camera.
We will introduce to you the best small doorbell cameras you can get with their technical specifications, features, and prices to help you decide which is the best one for your house.
Things You Should Know Before Getting A Slim Video Doorbell
What Is A Slim Video Doorbell?
A small doorbell camera allows you to see and speak to whoever is at your front door. It can be wireless or wired and each type has its benefits which we will explain to you further in the article. The slim video doorbell is connected with your phone so you can look at the footage even from your couch.
It's A Camera With A Doorbell
A smart doorbell camera is, in fact, similar to home security cameras. They both have similar characteristics like night vision, motion detectors, video footage, and Cloud service. The only thing that classic security cameras lack is the doorbell. On top of that, the video doorbell can complement your home better because of its design.
Answer The Door At Any Time
Smart doorbell cameras are linked with your smartphone over Cloud. That way you can easily check the live-streamed video to see who's at the door and answer them. Additionally, all of the footage is stored on your Cloud that way you can see if anyone was there even if you weren't at home.
Motion Detector And Night Vision
Every new model has motion detectors that alert you over your phone when somebody's in front of the door. The system works at any time because of the night vision option which ensures video footage even during the night.
Good Design And Size
Smart doorbell cameras come in a variety of shapes and sizes. You can choose between the bulkier ones or the small simple designed that aren't easily noticed at your wall. You can also choose a few colors, depending on which one complements your home the most.
Best 5 Smart Video Doorbells
Smart Slim Doorbell Camera
Honeywell Skybell Slim Design 1080p Wi-Fi Video Doorbell
Two-Way Audio Communication
The Honeywell Skybell Slim Design 1080p has a built-in microphone and speaker which allows you to interact with the person in front of the camera. You can speak to the visitor through the Skybell mobile app.

Good Quality Image
The camera offers a 1920 x 1080 Resolution Video at 15 fps with a lens of 180° field of view which enables you to see the entire area of your front door.  You can even capture the images over the installed app.
Synchronization With Your Phone
Managing the videos and alerts can be done with one click on your phone because the camera is connected to it over wi-fi. That way you can also see the activity history of missed visitors and footage.
Avoid  Trespassers And Thefts
The camera has a built-in motion detector so it can alert you when it detects movement. Not only can you see who is at your front door, but the camera also collects footage of your front yard whenever someone was there. You can see the live stream right away or later via the app.
Don't Worry About Endurance
Even though it's an electric device outside of your house bad weather won't harm it. The model can operate under extreme circumstances including temperatures from -40 to 170°F.
Features:
1920 x 1080 Resolution Video
500MB of free video recording
Built-in microphone and speaker
Motion detector
Skybell Mobile App
full-color night vision
Motion Detector Slim Camera Doorbell
Ring Video Doorbell Pro
Easy Installation Process
The Ring Video Doorbell Pro requires existing doorbell wiring. You must install the Ring Power Kit to your existing doorbell from the inside and the doorbell from the outside. All instruction is shown over video on the Ring website.
Non-Stop Power
The camera is directly connected to your existing doorbell wiring so it will work as long as you have electricity. There is no need for changing batteries or worry about battery endurance.
Connected To Alexa
Most doorbell cameras, like this one, are connected to your phone or tablet, but the Ring Doorbell Pro also connects to Alexa. You can use it for hands-free monitoring with visitors.
Security At All Times
The camera connects with ios, android, mac, and windows so you can monitor footage and movement from any of your devices. HD video offers you great video quality together with motion detectors and infrared night vision.
Match The Device To Your Home
This slim video doorbell comes in four complimentary faceplates so you can choose the one which suits your home the most.
Features:
1080HD video with infrared night vision
Motion detector
Compatible with mac, ios, android, and windows
Lifetime Theft Protection
Live View on-demand video
Slim Video Doorbell Without Subscription
Remo+ RemoBell S Wi-Fi Video Doorbell Camera
No Charging Problems
The Remo Doorbell Camera is directly connected to your existing doorbell wiring so it will be fully charged at any time. You won't need to worry is your battery charged or not.
Easy Managing Controls
You can share usage with up to 5 users and you will all be connected to the camera with your smartphones. Instant notifications will appear anytime someone rings the doorbell or if the camera detects movement. It works with Amazon Alexa, Google Assistant, and IFTTT This small doorbell camera will also fit in any home because of its size.
Choose Your Monitoring Area
With its wide viewing angle of 180º, the camera can monitor a big surface. Either way, you can specify motion-sensing areas that are in your interest.  The motion sensors are adjustable so you can lower their sensitivity. As with every small doorbell camera, you can stream your videos on demand.
Covers Free Video Storage
If you're satisfied with viewing the videos for the recent 3 days, you can have free storage for your camera. For a 30-day storage plan, you will have to add 3$ each month. The model works with Cloud over Android and iOS as every doorbell camera.
Features:
Free cloud storage
Motion detection
Two-way audio
Supports IFTTT
Easy to install
Front Door Slimline Doorbell Camera
Alarm.com Skybell Slim Line Doorbell Camera
Detect Possible Intrusions At Any Time
This Skybell Slim Line Doorbell Camera works on the Alarm.com system, so as every doorbell camera it detects motions of movement. When you open your Alarm.com app you can easily see if anybody's around your house.
Protect Your Packages
You don't need to worry about missing packages from your porch anymore. With the Alarm.com system, you can pick up your delivery even if you're not home and see when the delivery guy arrived. Even in case, you've missed it, you can later view the footage if the package, unfortunately, got missing from your porch.
Constant Professional Support
Alarm.com providers can help you with the installation and configuration of the camera from the moment you purchase it. From advising you on the best place to place the camera to avoid theft to wiring. Besides, you can also get professional security monitoring at all times.
Watch Videos At Any Time
You can download and watch your videos over the Cloud service. You can also monitor your front door remotely by starting the video from the app. It also has multiple user capabilities so that every resident can have insight while he's away.
Wide Video Range
With a full color 180 degrees video and night vision, you can have an insight to a big part of your home so the videos aren't reduced only to the place directly in front of the camera. That way the camera detects motions in your front yard too.
Features:
Cloud recording
4 inches wide
silence chime
on-demand video and recorded clips
detects motion up to 8 feet
multiple user capability
Cheap Slim Video Doorbell
Video Doorbell AUNEX WiFi Doorbell Camera
Detects Every Movement Even During Nightime
AUNEX Video Doorbell has an installed motion detector with infrared light that automatically turns on during the night. That ensures surveillance at any time. Together with the 720P HD video, you can clearly see what's happening in front of your house.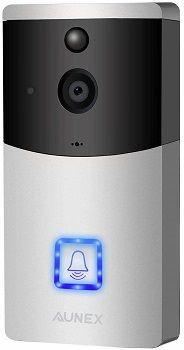 Uses Less Power Consumption
If you're concerned about energy use this doorbell camera is a good solution for you.  If no one pushes the button, the doorbell will auto sleep. But you don't need to worry that it won't work properly if it's on auto sleep because of the PIR Motion Sensor. When motion's detected it turns automatically on.
Talk To Your Visitors At Any Time
You can talk to whoever's in front of your home over your phone. The microphone has a noise cancellation so you can easily talk to your visitors, even if you're not at home.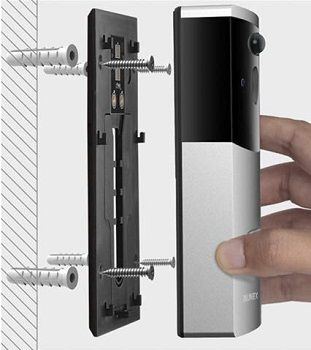 Don't Worry About The Installation
This doorbell camera is easily installed so you won't need professional help for it. Also, it works over the UBell App which you only need to download to your phone with 2.4GHz Wifi. It's dual powered and you can choose between the AC input or the rechargeable 18650 battery. In addition to that, you have a 12-month warranty and lifetime technical support for your device.
Monitor Your Home And Save Money
This model is one of the cheapest that we've reviewed in this article. If you want to have basic doorbell camera functions (motion monitoring, night vision, good quality image, Cloud storage…) and don't want to spend a loto f money, this model would be a good option for you.
Features:
Wireless Wi-Fi Connection
Smart PIR Motion Detection
Cloud Storage and SD Card Recording
Easy to install
Service Guarantee
Conclusion: Which Two Smart Video Doorbells Should You Buy?
In my opinion, the best two video doorbell cameras are the Ring Video Doorbell Pro and  Alarm.com Skybell Slim Line Doorbell Camera. The Ring Video Doorbell Pro connects to almost every operating system and has a lifetime theft protection. The  Alarm.com Skybell Slim Line Doorbell Camera has silence chime. Also, they both offer excellent video quality.
You can also check my post about the best doorbell cameras. If this offer didn't give you specific information on doorbell cameras, check out my post about smart doorbell cameras or the post about security video doorbells.