Did you hear about the RCA video doorbell? You are looking to buy a new video doorbell and you came across the RCA doorbell camera?
Read this RCA doorbell reviews and see how it can benefit your home security system.
RCA Company Story
RCA is a short name for Radio Corporation America. This brand exists since 1919 and its roots are within the broadcast industry. It is America based company which has developed from a major electronics company to one of the most technologically advanced companies in the world.
What RCA Sells?
Today, RCA is based on a wide range of customer-based products. They offer products for smart homes, following the latest trends, home security, remotes, clock radios, wall mounts, audio and connectivity, and power accessories.
Where To Purchase RCA Products?
Their products are available on their official site and at many retail and online stores. I recommend buying it on Amazon because Amazon gives some good benefits like free Amazon tech support. RCA products are from low-end to high-end price range and the RCA doorbell camera belongs to the high-end price range.
RCA Customer Support
RCA's customer care is online-based care. You can visit their official website to find an answer to your questions. Most common questions are divided into groups which allows you easier search. Amazon also offers free tech support. Warranty information is not included on-site but you can contact them via the form on the official website or by calling them.
Best 2 RCA Video Doorbell Camera Reviews
RCA HSDB1 Video Doorbell
RCA HSDB1 Design
This RCA video doorbell comes as a 1.02-pound device which is 12 by 7 by 3 inches in size. It doesn't include the batteries but it doesn't need it. It is an easy setup device that connects to your existing doorbell wiring. It requires a 16 – 24 V transformer and a mechanical chime. You connect it to your home Wi-Fi network and customize your device settings in-app.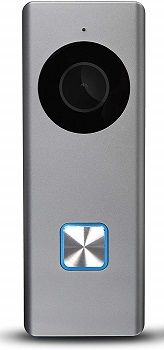 HSDB1 Video Doorbell Specification
It has a crystal-clear 1080p video camera that allows you to live stream and record. It provides a 180-degree field of view with less dead zones and night vision that captures any motion. It has built-in two-way communication thanks to built-in microphone and speaker.
Motion Detection And Storage Option
RCA video doorbell has a motion detection sensor that allows you to set up the sensitivity range from low to high. Depending on your chosen sensitivity range, your doorbell will pay attention to different objects more or less. You get a 16GB MicroSD card that you can upgrade up to 128GB. It allows you to recorded up to 700 20-second events. They offer a timeline where you can check the videos no matter where they were taken. Thanks to the orange marker, you can see what happened during the day, two days ago or a week ago.
Features:
In-app settings and customization
Four doorbell faceplates (satin black, satin silver, satin white, Venetian bronze)
RCA HSDB2A Video Doorbell
RCA Video Doorbell Camera
This video doorbell comes with a 3MP UHD video and a sensor that captures more detail than a 1080p HD camera. It contains a 180-degree angle field of view with ultra-tall angles. It has better coverage and less dead zones with night vision motion capture. You can storage your recording to a MicroSD card up to 128GB.
Smart Doorbell With Weatherproof Certificate
RCA doorbell camera holds the weather-resistant certificate and operates on a temperature between -22°F to 122°F. Smart Wi-Fi doorbell holds a 90-decibel alarm which can scare anyone approaching your door. It is triggered with motion detection and you can set it up how you like it. It is pairable with other RCA home security products and it is usually purchased with indoor or outdoor cameras. You can control your doorbell and other devices via an All-in-one app that is available for Android and iOS.
Features:
Three faceplates (satin black, satin silver, Venetian bronze)
Easy Installation
Instant alerts
RCA Doorbell Camera Installation And App
You have a user installation manual for both models, HSDB1 and HSDB2A. There they describe step by step how to install your RCA doorbell. After installing the doorbell, you need to download their app and make an account. After you registered as a new user, you begin your doorbell set up. More information about how to set up your app is available in the manual as well as it contains a tour of the doorbell camera, allowing you to see the full specification of your doorbell.
CONCLUSION: Why Buy RCA Doorbell?
RCA doorbell camera is an expensive doorbell product that delivers more security to your home. Thanks to the new model RCA 3MP UHD video doorbell, you can connect all of your security devices and control them via the app. Basically, all of your home security is on the palm of your hand.
To read more about video doorbell systems, I advise checking these articles. To make a comparison between smart Wi-Fi doorbell camera, check these reviews and to see more about video doorbell cameras, check these articles out.